Unlike renderers that employ confusing arbitrary parameters, Bella speaks a more natural language, based on real world concepts and units. This means that in addition to rendering quickly, Bella is also very predictable, allowing you to avoid wasting time with trial and error during scene setup.
Fast Spectral Rendering
Bella's state of the art spectral solvers open a world of visual richness and detail that you have been missing with your RGB renderer.
Optical effects such as the beautiful dispersion seen here, emerge naturally with no need of hacks or workarounds.
Image by Thomas An.
Focus on Performance
Bella's fast CPU solvers can provide performance several times greater than that of even some non-spectral competitors.
Here, we see Saturn CPU producing results similar to Cycles CPU in Rhino, but in around 1/5 the time.
The difference can be even greater on MacOS, for renderers that do not yet run natively on Apple Silicon.
Scene available here, and minute-by-minute comparison video available here.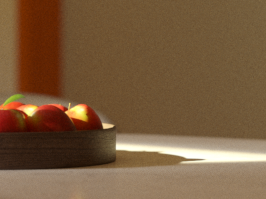 Matchless Realism
Bella's painstaking attention to detail in the models and algorithms we use, results in images with simply better light, and more life.
This is something that cannot be added later on in a project, it must be taken as a fundamental imperative from the very beginning.
Output directly from Bella, no post processes applied. Click here to see an animation of this scene.
Archviz
Bella's fast Saturn solver is especially suitable for architectural work.
For instance, it handles typical sunlit glass facades with ease, using standard glass materials, with no special setup.
Rendered 5m 11s @ 1080p, no denoising *
Product Viz
Bella's Saturn solver makes quick work of product viz scenes.
The Bella Uber material makes it fun and easy to experiment, as you create appealing and unique looks.
Rendered 1m 36s @ 4K, no denoising *
Jewelry
With its beautifully accurate dispersion, Bella is the perfect choice for taking your jewelry work to the next level.
Precious metals and gem materials may be defined using real measured data, with the additional useful option of overriding a gem's natural color.
Image by Thomas An.
Complex Caustics
Bella's Atlas solver easily handles scenes with complex caustics such as swimming pools and the like.
The interesting caustics in this scene emerge naturally by the use of real measured data in the water material.
Rendered 15m @ 1080p and denoised **
Apple Silicon
Though host applications may not yet support Apple Silicon, Bella already supports it natively.
Built as Universal Binaries, Bella applications & plugins provide the best possible performance no matter your type of machine.
Bella for Rhino
Bella for Rhino provides a seamless workflow within Rhino 6, 7 & 8.
You will find cameras, materials, and environments where you expect them to be, working how you expect them to work.
Try it today!
Bella for Maya
Bella's nodal system is quite similar to Maya's, so Bella's nodes are a natural fit to be exposed natively in Maya.
Whether you use Maya 2018, 2019, 2020, or 2022, you can give Bella a try today!
Licensing & Support
Bella's deliberately simple floating permanent license ensures you do not lose valuable time to complicated, error-prone license managers.
Core developers strive to be open and responsive, available to assist quickly & directly with any issue you may encounter.
Try Bella today!
* CPU used for timed examples & comparisons: AMD 5950X
** Image denoised using the integrated Intel denoiser (
OIDN
).